Time Series Forecasting using Deep Learning¶
Forecasting the future is a valuable superpower. As the amount of data increases, time series forecasting using deep learning is a grow fast. To get a grasp of the trend, we created the following chart using the keyword "deep learning forecasting" on dimensions.ai).2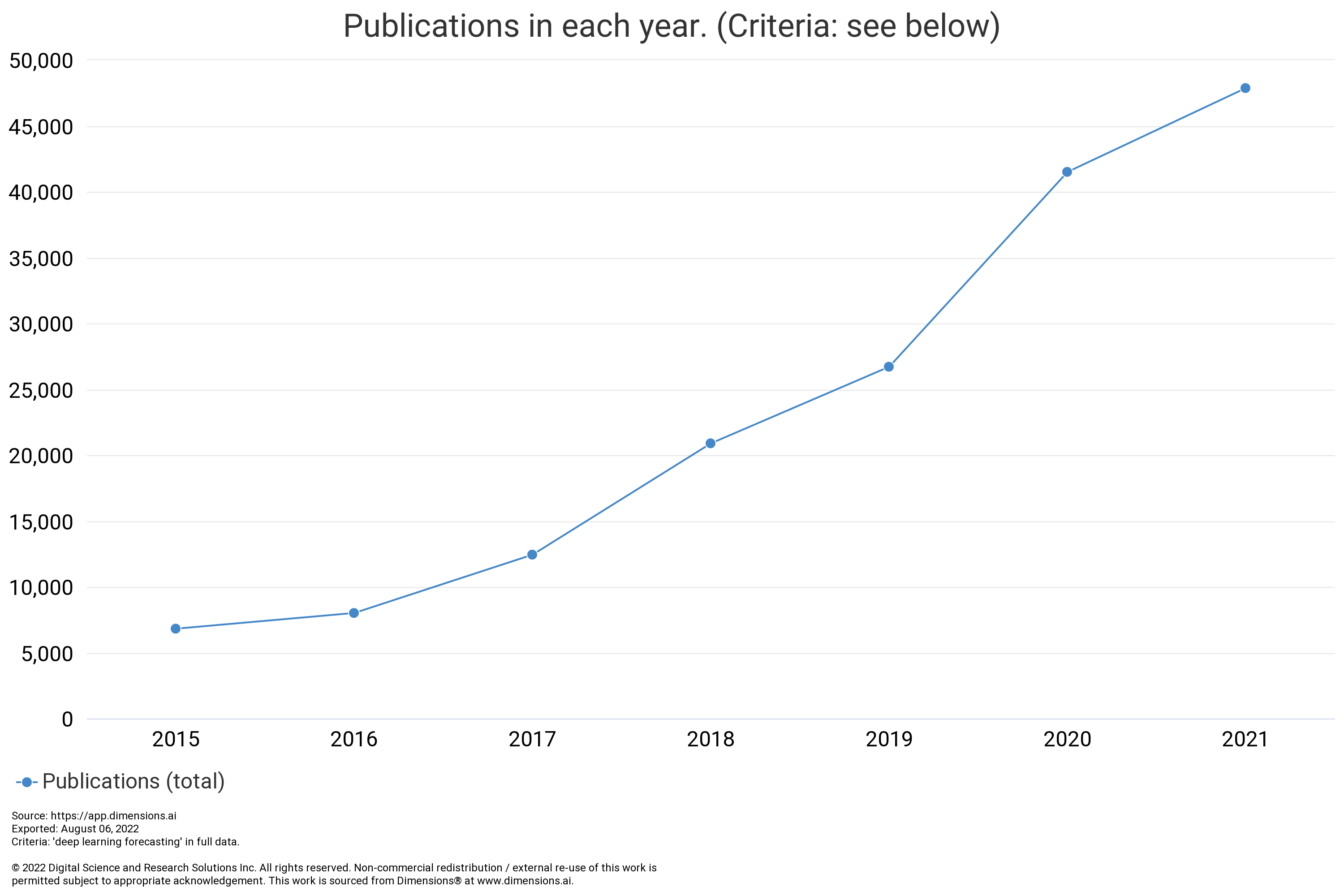 On the other hand, deep learning methods are not yet winning the game of forecasting. Time series forecasting is a complicated problem with a great variety of data generating processes (DGP). Some argue that we don't need deep learning to forecast since well tuned statistical models and trees are already performing well and are faster and more interpetable than deep neural networks34. Ensembles of statistical models performing great, even outperforming many deep learning models on the M3 data1.
However, deep learning models are picking up speed. In the M5 competition, deep learning "have shown forecasting potential, motivating further research in this direction"5. As the complexity and size of time series data are growing and more and more deep learning forecasting models are being developed, forecasting with deep learning is on the path to be an important alternative to statistical forecasting methods.
In Coding Tips, we provide coding tips to help some readers set up the development environment. In Deep Learning Fundamentals, we introduce the fundamentals of deep neural networks and their practices. For completeness, we also provide code and derivations for the models. With these two parts, we introduce time series data and statistical forecasting models in Time Series Forecasting Fundamentals, where we discuss methods to analyze time series data, several universal data generating processes of time series data, and some statistical forecasting methods. Finally, we fulfill our promise in the title in Time Series Forecasting with Deep Learning.
---
Nixtla. statsforecast/experiments/m3 at main · Nixtla/statsforecast. In: GitHub [Internet]. [cited 12 Dec 2022]. Available: https://github.com/Nixtla/statsforecast/tree/main/experiments/m3 ↩

Daniel W. Hook, Simon J. Porter, and Christian Herzog. Dimensions: building context for search and evaluation. Frontiers in Research Metrics and Analytics, 3():23, 2018. https://www.frontiersin.org/articles/10.3389/frma.2018.00023/pdf. URL: https://app.dimensions.ai/details/publication/pub.1106289502, doi:10.3389/frma.2018.00023. ↩

Shereen Elsayed, Daniela Thyssens, Ahmed Rashed, Hadi Samer Jomaa, and Lars Schmidt-Thieme. Do we really need deep learning models for time series forecasting? 6 January 2021. URL: http://arxiv.org/abs/2101.02118, arXiv:2101.02118, doi:10.48550/ARXIV.2101.02118. ↩

Léo Grinsztajn, Edouard Oyallon, and Gaël Varoquaux. Why do tree-based models still outperform deep learning on tabular data? 18 July 2022. URL: http://arxiv.org/abs/2207.08815, arXiv:2207.08815, doi:10.48550/ARXIV.2207.08815. ↩

Spyros Makridakis, Evangelos Spiliotis, and Vassilios Assimakopoulos. M5 accuracy competition: results, findings, and conclusions. International journal of forecasting, 38(4):1346–1364, 1 October 2022. URL: https://www.sciencedirect.com/science/article/pii/S0169207021001874, doi:10.1016/j.ijforecast.2021.11.013. ↩